Posted on Friday, December 27, 2019 Return
---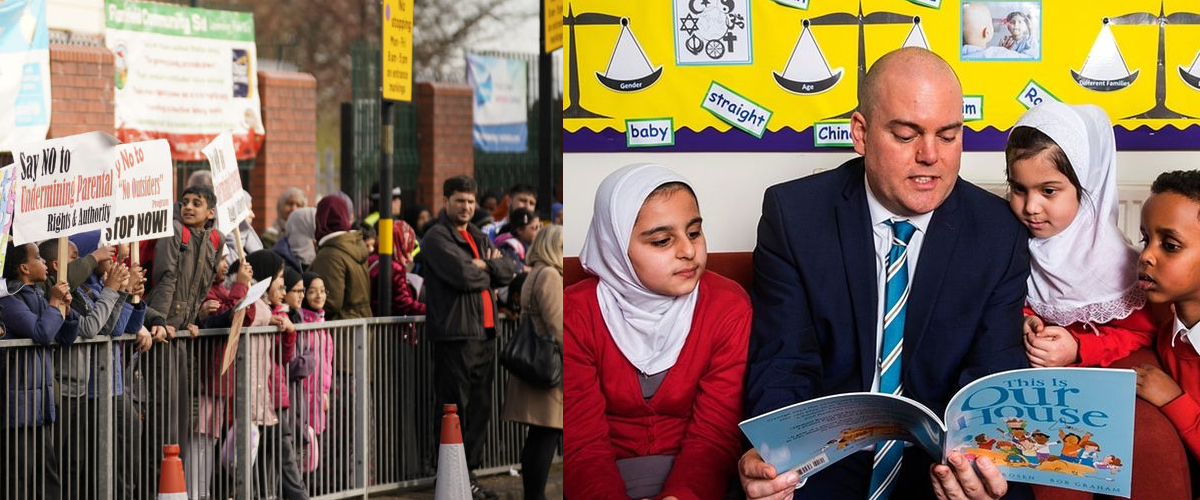 ---
A Birmingham school teacher by the name of Andrew Moffat introduced a new program called 'No Outsiders' at his school, Parkfield Community School. The program was geared at introducing LGBT and diversity to primarily 5 year old Muslim children at the 99% Muslim school which sat within a large Muslim community. The Muslim parents were not given an option or voice in this decision as their views were totally ignored by the school. This caused mass protests outside of the school and community with parents begging the school to not teach such sexual subjects to their 5 year old children as it they felt it was a violation of their religion and beliefs. The parents agreed that it could be taught to children that were at least 11+ but felt that it was wrong for such things to be introduced to 5 year olds. In haste during November 2017 Andrew was awarded an MBE by Her Majesty the Queen in UK for his experimental idea within a Muslim community. His reasoning behind this program was that there were an increase in hate crime and that he experienced bullying for his sexuality. This was the only school within the area that introduced this program, the school teachers were all white and the pupil majority was Muslim.
The intentions may have been somewhat agreeable but the execution within such a community was inconsiderate and unprofessional. Provocation was clearly paramount priority behind his execution on this agenda as extreme retaliation was obviously known and expected by the Police and Government. Although the protest by the parents were peaceful they only protested to raise the age limited but instead they were ignored and labelled as 'homophobic'. The Queen was too quick to make such awards and demonstrated no respect for other cultures within the very community she reigns. It is clear that the term multicultural has a different meaning in the United Kingdom as it does not include the term respect.
The term 'Homophobic' is loosely used within society as it appears to be geared towards the statement 'you are ether with us or against us' without realisation that there are individuals who are simply neither but yet are tolerant. The term is wrong and is completely biased towards anyone or anything that does not agree. If you enforce your values on others who do not believe in the same values as you or what you stand for then you will naturally encounter resistance, especially if they are of a different religion.
After a long fight by the parents, this school decided to abort the program saying "Up to the end of this term, we will not be delivering any No Outsiders lessons in our long-term year curriculum plan, as this half term has already been blocked for religious education (RE). Equality assemblies will continue as normal and our welcoming No Outsiders ethos will be there for all."
This experiment was unnecessarily executed onto a Muslim community within Birmingham, UK for reasons that were unjustified with inconsiderate intent to cause provocation towards a Muslim community, religion and or culture. If the United Kingdom is to proclaim 'multicultural-ness then at least demonstrate respect for others by consulting with the community first instead of inciting chaos within the community.
---
Further information
---
---
---
Comments
No comments posted.