Posted on Tuesday, July 5, 2016 Return
---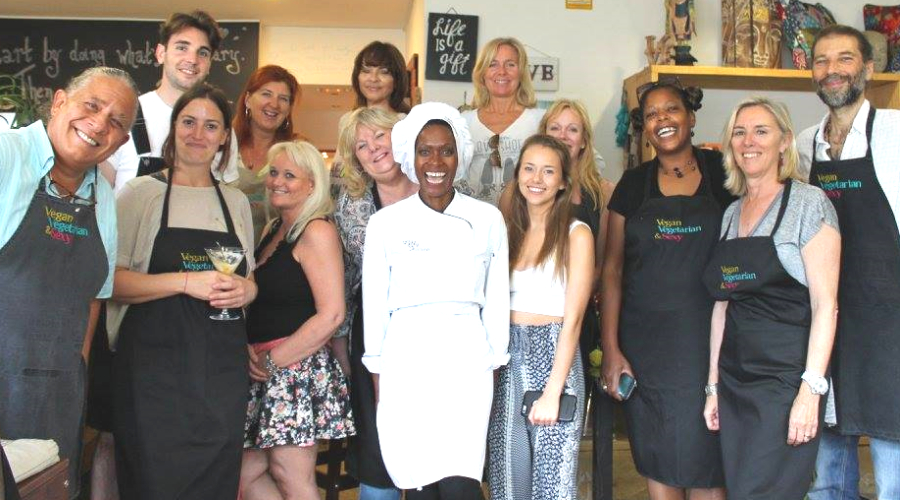 ---
We manage to catch up with new type of Celebrity Chef that has bought a wealth of health to the Spanish community in Spain, Europe and she seems to be expanding her exquisite techniques to the whole wide world starting with Future Topic.
We are now embracing a new and exciting food culture. This is not just about food, it's about people, animals and our environment. How by being kind on your plate can affect the entire planet. How one person can bring fresh and exciting offerings to the table; is vegan holistic chef Gilly Jaxson who is presently adding her exciting culinary flair to this new food culture. Deeply passionate about her food this; simply shines through as she promotes the importance of nutrition, freshness and flavor in every single dish she prepares.
Food is as much of a spiritual experience as much as it is a sensory one. Harmony and balance are an important component when we start to think about our food and how we feed ourselves. A raising of our mindfulness and conscious connection to food can only benefit us as individuals and give us the best opportunities possible to learn about our bodies, so that we can stay whole, connected and happy. To me, food is not just a pretty arrangement on a plate, it's about 'Life'. It's about living our best life possible. We are simply what we eat. We now need to connect with how our food is created and produced and how it gets to our plates and once on our plates what benefits does it provide for the bodies.
After many years suffering with a constant state of unwellness, Gilly is now on a road of continuous good health and teaching others about the importance of understanding our food/body connection. Once becoming vegan over 7 years ago, Gillys life has totally changed for the better and given her the inspiration to share her journey. Helping others to clearly see and understand that through some very simple fundamental changes in their diets, that it's possible to lead a healthier and happier life.
The health of the individual is paramount in the recovery process with the addition to greater awareness comes the raising of our conscious and connectedness to our bodies, we are constantly creating a holistic balance and harmony not only on our plate, but on our planet.
Holistic cooking means creates dishes and recipes that are close to their natural state as possible, this way when we eat, we take only the total goodness from our foods, feeding our bodies and giving it the total nutrients it needs.
Greatly travelled and as an experienced chef for over 20 years, french classically trained, Gilly has an extensive knowledge of world foods, from India, East and South Asia, Africa, West Indies and European Cuisine. Specializing in plant-based living, raw and vegan/vegetarian cooked foods. Her greatest passion is for vegan and vegetarian food. With her extended knowledge of herbs and spices passed down through generations of her family, coupled with her nutritional knowledge gained over the years of her own food journey, food becomes not only exciting adventure, but also a pure healing medicine.
Now recently after a series of successful cooking shows and a regular radio show host on RTV Marbella local radio Gilly has now started her own vegan & vegetarian cooking school here in Marbella, Spain, She has now stepped into the teaching arena for specialist vegan and vegetarian lifestyle eating and cooking.
Gilly teaches her clients to fall in love with food. Gilly says ' I see this transformation happen so often just after a few days... my clients just get happy, they feel more joy, it's a beautiful experience to see them fall in love with food and themselves once more'.
---
---
---
Comments
No comments posted.