Posted on Thursday, June 23, 2016 Return
---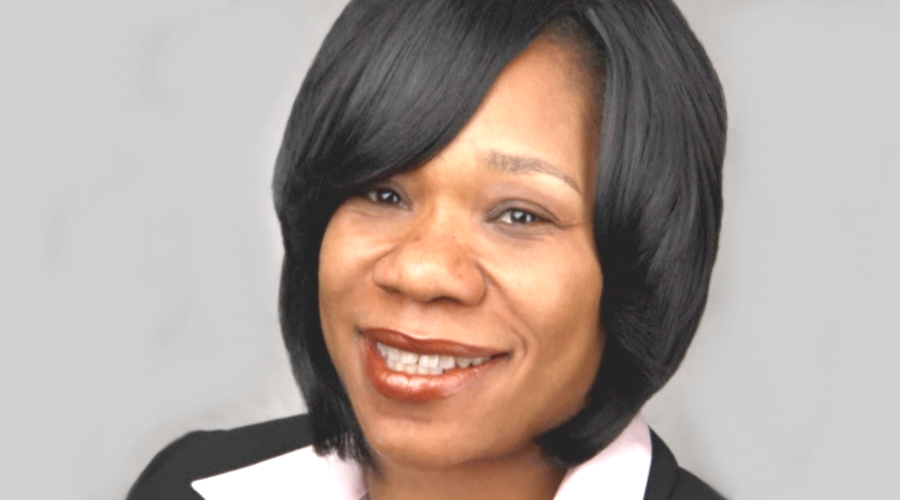 ---
Standing firm and standing tall. Pamela Meanes has seen it all in her career.
Growing up in East St. Louis, Meanes always wanted to use her education and career to give back to the community. Wherever she went, she wanted to be part of the change.

"I wanted to become a school teacher as I had many great teachers in my life and teachers were great people in our community," she said. "When I was in college, I saw very few professors of color so I shifted gears to yearning to be a professor."

As she was studying at Clark Atlanta University for her Masters, she was in the middle of the unrest from the Rodney King verdicts. The students wanted to do a peaceful protest and ran into many hurdles with the City of Atlanta. As they wanted to show a protest, they risked it all by going against city ordinances and placing themselves up for arrest.
Meanes was counting down to move forward with
getting her PhD to begin her teaching career. Then the phone rang. "I was the Graduate Student Association President at the time. I was asked by the university administration to calm the student body down. We were able to have prosecution avoided so people wouldn't get records," she said. "Student leaders and students felt they got a lack of respect from the city government. I was angered that students were not being listened to."

The incident required Meanes to change her journey to law school. She was a non-traditional law school student and viewed it as a job and also as a chance to help her serve. "I was focused on making good grades so I can get a good job," she recalled. "I was an overachiever. I was in two study groups."

It wasn't easy to climb up the legal ladder and she credits great mentorship and a strong focus. She became the city attorney for the City of Rockland, MO. The city reminded her of her hometown.
"I helped secure 9.1 miles of land for the metro. We were able to get the transit services extended," she said. "It gave me a chance to give my talents back. The city is full of people who have hope."
This included managing and negotiating over 200 complex land deals.
Shortly after that, she joined the firm of Thompson Coburn and later became partner in 2005. This is the first time in the firm's 75 year history that a black woman, yet alone a woman was ever named partner from within. She started out as a Legal Associate.

At the firm, she has represented corporations, public agencies and financial institutions to name a few of her clients on the docket. In her twelve years of experience, she has defended financial institutions on various contracts, mechanics lien and lender liability matters, tried or second chaired jury trials to conclusion on various civil matters and defended senior executives and a non-profit organization on matters related to race and sexual harassment. "It is a very competitive environment that is business- and client-driven," she said when looking at her legal career. "It is hard to keep people in and there is a major lack of mentorship."

Meanes had the benefit of receiving many mentors along the way as she moved up the ladder.

"I had influences inside the firm and outside the firm. My outside influences told me that someone of my caliber needed to be seen in the community," she said. "Here at the firm, I had a great mentor who took me in and handed me much work. I was able to get on cases and try cases." Outside of the firm, she is the President
of the National Bar Association. This is the nation's oldest and largest association of Black Attorneys. With over 700 members present and voting in 2013, she received 74 percent of the vote.

"From its historic advocacy for civil rights, to its support of a diverse judiciary and its intense focus on advocating the position of attorneys across the country, the NBA has helped Black Lawyers make incredible strides in the profession," she said. "This organization has a rich history that is worthy of being preserved and protected."

She has served the NBA for more than six years in various leadership capacities. In her campaign, she promoted exercising financial restraint and achieves stability, effectively communicates, offers practical benefits which are targeted at sustaining and advancing black lawyers and effectively addresses and protects the political civil rights of all.
She reflects back on the excellent professional advice in which she
received over the years and wants to see more people enter into the field of law.

"One must know the rules of corporate America. Too many of us think we can change the rule," she said. "One needs to learn the environment and interview the environment. Sometimes people just take jobs to pay off their debts from school."

The irony of Meanes life is that she is a powerbroker of community advocacy. From serving as a student leader at Clark Atlanta University to working with a suburban city, she has stood the test of time and awaits her next assignment. With her position in the community, she credits her husband for his unwavering support and commitment.

"In this profession and with my civic involvement, it pulls me away from the home. My husband did what most men would not have done, he was a supporting spouse in all of this," she said. "He laid a foundation and knocked some roadblocks for us out the way. He took a sabbatical from his ministry and stood with me."

As a parent of three children, she thinks about herself as a parent and the worries of all parents when she advocates.

"I want to find truth. I want to find justice," she said. "I don't want to lose my children to police brutality or mass incarceration. No parent should have to deal with that." Meanes has lived a storied and purpose filled life. Where is the next assignment or journey? No one knows for sure but there is one thing certain. She is ready to act, lead and take charge!
---
Further information
http://www.nationalbar.org/NBA/President_Meanes_Bio.aspx
---
---
---
Comments
No comments posted.