Posted on Friday, April 1, 2016 Return
---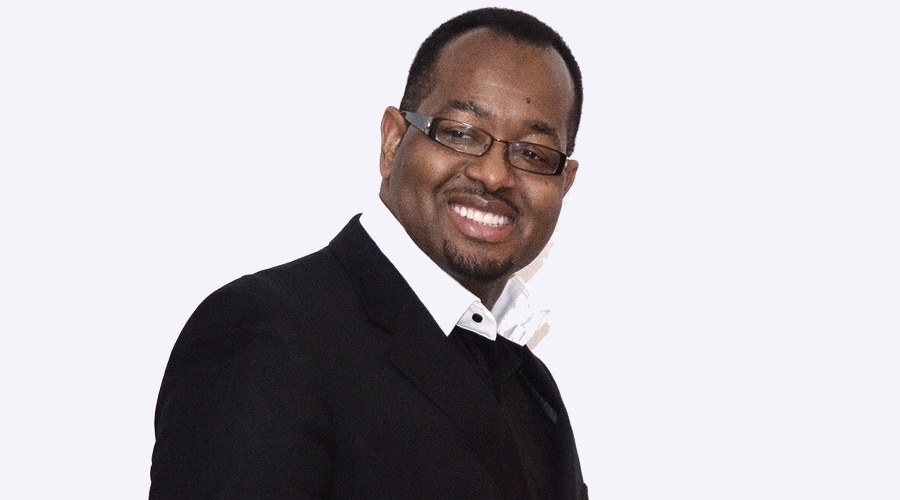 ---
The word of God has been the bedrock of Black resilience, fostering and sustaining faith through 300 years of systemic oppression. Not only do we receive power from the words of preachers, our choirs deliver the spirituals and hymns that provide us inspiration and motivation to persevere. People like Mark Howell, who craft the beautiful gospel, are musical missionaries who help relay God's message one
melody at a time.
Howell is a songwriter and composer with over 30 years of music experience, including 18 as Minister of music at St. Charles Borromeo in Harlem, New York. He also heads the Mark Howell Singers, a multi-talented group of vocalists who've performed all over New York, including five times at Carnegie Hall. Howell creates music that serves as both a
testimony of life's trials and a guiding light to survive them.
In 2014 he released here at the Table: Songs of the Eucharistic Reflection and just finished writing an opera based on the Bible's book of Ruth. We were able to catch up with Mr. Howell to discuss his wonderful career, spiritual motivation, and future plans.
How long have you been Minister of Music for St.Charles Borromeo Church, Harlem, and NYC? What led you to choose that particular church?
I've been Minister of Music for 18 years. I was the Director of Music for a community choir that was originally formed to provide Archdiocesan musical support for the then Bishop of the parish. This choir rehearsed at the church, and at the time they were looking for a music director. Prior to that, I was primarily providing musical direction for churches in Westchester County and the Bronx, but I was interested in the pportunity that St. Charles Borromeo Church presented. Music directors don't usually stick in one place (for 18 years), but the church is very fulfilling. The church has a rich musical history. It's the largest Catholic Church in Harlem. It's very fulfilling as a musician, and definitely a place I've grown tremendously.
Since you've been Minister of Music what are some of the most memorable events that your choir participated in?
We've participated in the annual Black History Month mass at St. Patrick's Cathedral in NYC. It is a service where people of African descent gather to celebrate their rich heritage and catholic faith. I have been fortunate enough to be the music director for this service for many years so that's definitely a highlight and a blessing. I have my own choir, the Mark Howell Singers, which is a combination of many different churches. We've done five successful concerts at Carnegie Hall. These concerts were held to benefit various charities.
Who are some of the people you've worked with as a choir director that you're most proud of because of their achievements?
There's one person in particular: Carla Harris. She is well known in the country. She is Managing Director for a major corporation in New York. In 2013, she was appointed by President Obama to be the Chairwoman of the National Women's Business Council. She's one of my key singers and also a member of St. Charles Church. She's more than a friend. She's a spiritual influence and a kindred spirit. Our spiritual connection transcends our own basic understanding. I often tell her "we will understand it better by and by". We traveled to Germany together for Holy Week celebration last Easter and performed music, some of which I have composed for Carla. They've asked us to come back, and we're in the process of working out arrangements. She's a wonderful singer, she has released three CDs on the market, and some of the songs are original
music composed by me. One of the songs is called "Unceasing Praise," which is also the title of her last CD. Another song is called Midnight Blessings which was written shortly after my mother passed.
When did you meet her?
I met Carla at St. Charles about 16 years ago. She is a member of the church and one of the featured singersin the Gospel Choir.
What was your inspiration to create the Mark Howell Singers?
My friend Carla Harris said she was thinking about doing a concert in 2005 and wanted it to be a benefit concert for her alma mater in Jacksonville, Florida and for St. Charles Borromeo School in Harlem, New York. She said she wanted a choir for the concert. I selected about 20 singers for this event, and that's where it started. Three days before the playbill was printed, we still didn't have a name for the Choir and she said, "How about The Mark Howell Singers?." That's been the name ever since. We've performed at Carnegie Hall, Lincoln Center, Harvard Business School, and was featured on Channel 11 WPIX. It's a very progressive group. I'm hoping to eventually take them to Jamaica! (My
homeland)
How rewarding is it for you to know you're giving back and crafting artistry?
It's very rewarding, especially when people come up to me and say, "Your music has touched my life in so many ways...your song has ministered to my spirits today." Hearing that practically every Sunday is very rewarding. I thank God for this wonderful ministry. It has been a blessing to me.
Can you speak on how important it is for youth to have creative outlets such as a choir in their communities?
It is very important. It makes them more grounded in the spirit and more grounded in their heritage. It creates a forum that allows them to be a part of the liturgy. We have a very successful youth choir at the church. We have about 35 children ages eleven to 18. They're one of the bigger ministries in the church, hopefully they will spiritually influence other youth. They perform for the mass twice per month, on the third and fifth Sunday. It's a growing church, and hopefully they will lead by example.
Do you attempt to be a mentor figure to the youth choir?
I do as much as I'm available to. I've been so busy with other things. I occasionally rehearse and teach them new songs especially in the absence of their Musical Director. I'm always there for them and we have a wonderful relationship.

What is your creative process when composing songs for other singers/musicians? How much is based on their suggestions and how much is based on your creative instincts, as far as what would sound best with their musical styles?
Most of what I compose is from my own creative process. I'm fortunate enough to say that most of my friends are singers that I write for. Knowing their voices and abilities, I'm able to create melodies that fit their voices. Most of my music is scripturally based and taken directly from the Bible. I wrote a song called "From up above," which was recorded by my friend Wendell Holden. It was written about my mother, who passed. It's my most meaningful song, written after a tragic incident in which I was almost killed and robbed at gunpoint for my wallet and phone. I knew my mother was there protecting me. I asked Wendell if he would record it and without hesitation he said yes.
What are some of your favorite songs that you've composed?

I released a CD a year ago called Here at the Table: Songs of the Eucharistic Reflection, which consists of songs that reflect upon the Holy Eucharist. One of my favorites is "Lord Make Me Holy." I direct a Men's Chorus at St. Charles. This song was writtenfor and was recorded by them on the CD. Another favorite is Song of Praise recorded by the Mark Howell Singers with soloist Christal Sumpter. And of course, the song Unceasing Praise recorded by Carla Harris.
Can you discuss your upcoming opera? Will you have students of the choir involved?
I just finished composing an opera based upon Ruth in the Bible. I hope to have it premiered in the fall as an Oratorio, then fully staged later on. I'm actually seeking professional singers. I will include singers from the Mark Howell Singers. I also have colleagues who are professional singers who will hopefully be a part of this production. The opera includes a Male Chorus. I am hoping to have the St. Charles Borromeo Male Chorus, which I direct. I want to give them an opportunity to perform in the opera.
What was your initial inspiration to create the opera?
A few years back I started a musical series featuring classical musicians of African-American heritage. It was called Strictly Classical. Someone said, "Why don't you write music for the series?" I started the opera then for which scenes were premiered in this classical music series. My friend, soprano Gail Blache-Gill, pressed me to finish it, so I did so two months ago.
What was the inspiration to start the opera, specifically using the Book of Ruth?
I always wanted to write a major work, and I have a deep love for Opera. I chose the Book of Ruth for this opera because it's one of my favorite books in the Bible. It's about love, dedication, honor, and respect. These are all qualities that are so meaningful to me.
Do you have any other upcoming music projects?
I have a concert coming up on June 14thcelebrating the Mark Howell Singers' 10th year in existence. It's hopefully going to be a very good production. Also, we have another event at Carnegie Hall, on November 23rd. It will be our fifth concert at Carnegie Hall.
Can you recall a time where you felt particularly redeemed from someone complimenting your music?
One Sunday Service, a gentleman came to me after the service and said, "Mark Howell, your music inspired me and touched me so much." I didn't know who he was until he said, "By the way, I'm Kelly Wyatt" I was almost floored at his introduction. Kelly Wyatt was a renowned accompanist and vocal coach for many great operatic singers including
Leontyne Price He had gotten married 50 years before at the Church and was in attendance that Sunday celebrating his anniversary. It was a huge compliment from someone who has influenced so many in the industry.
---
---
Further information
---
---
---
Comments
No comments posted.